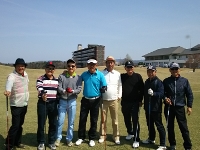 Recently, there have been growing numbers of foreign travelers who are interested in a Japanese golf experience.
Golf in Japan provides a unique opportunity to play golf in some of the most magnificent scenery in the world, such as Mt. Fuji.
There are four distinct seasons in Japan with the most popular being the Spring and Fall.
In the Spring, you can golf among the blooming cherry blossoms and in the Fall, you can golf among the Autumn leaves.
Your golf experience will be a fun and memorable activity during your time in Japan.